CNC Fiber Laser Marking Machines
We, MarkIndia Marking Systems are Manufacturer, Supplier, Exporter of CNC Fiber Laser Marking Machines and our setup is situated in Aurangabad, Maharashtra, India. This product is also known as CNC Fiber Laser Markers. MarkIndia "Preciso" Laser Marking Machine
Laser life 100000 hours +

Features :
Laser wavelength:1064nm
Working lens : 150 mm X 150 mm
Repeatability precision : ±0.002mm
Cooling Method : Air cooling
Power:10W / 20W
Power supply : 220V/50HZ
Max speed : 12000mm/s
Pulsed frequency: 30-10000KHZ mm
Computer : Industry computer, 4G ram and memory, 17.5 inches screen, 120G SSD, win7software.
Foot pedal : Press by foot, when do the same repeated processing, run the machine by foot, easy and convenient to operate.
Power supply : Laser source power supply 24v.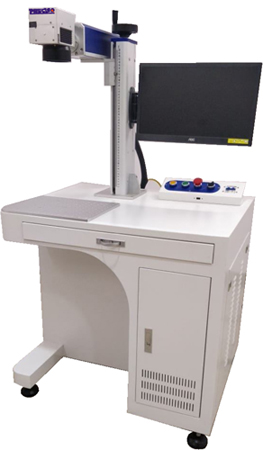 Software Function
Can make identification to various BMP.JPG, DXF, PLT, AI etc format documents.
Automatic generate various serial numbers production date, bar codes, two-dimensional codes, etc..
Flexibility variable quantity document processing, change word in actual time during the processing procedure, can direct dynamic reading.
Reading text files and marking documents in actual time.
Direct reading text data through serial port and network Interface.
Easily support various world languages.
Automatic counting function.
Support pipeline marking.
Support multiple working positions marking.
Support rotary marking.
Support large area automatic segmentation marking.
Laser marking machine can mark metal and nonmetal materials. It widely used in auto parts, tools, accessories, and many products, nameplate, precision instruments, and all kinds of tools, aerospace devices.
Designed by : MID Hosted by : GID Promoted by : PBD