Pneumatic Standalone Table Top Dot Pin Markers
We, MarkIndia Marking Systems are Manufacturer, Supplier, Exporter of Pneumatic Standalone Table Top Dot Pin Markers and our setup is situated in Aurangabad, Maharashtra, India. This product is also known as Pneumatic Standalone Table Top Dot Peen Marking Machines etc. MarkIndia X-LAR CNC marking machines are designed based on Pneumatic technology addressing high speed marking. Pneumatic marking machines has faster operational time. With its Dot Peen marking technology user can achieve higher accuracy and fast production. The advanced technology take up X-LAR Marking machine at highest precision of marking. This is the perfect choice for consistent depth of marking on large number of components. A special stylus provided with XLAR marking machine, that marks upto 0.5 mm in soft steel component. Our all Dot Pin pneumatic marking machines are popular in all application areas that requires much faster and deep marking. The complete marking machine with built in electronics based, Suitable for 24 * 7 working. Requires computer with Serial Port. Requires compressed air supply for working. Versatile and suits most direct part marking applications.

Categories : Barcode Marking, Standalone XLar Controller, Desktop, Dot Peen Pneumatic, Small & Medium Component Marking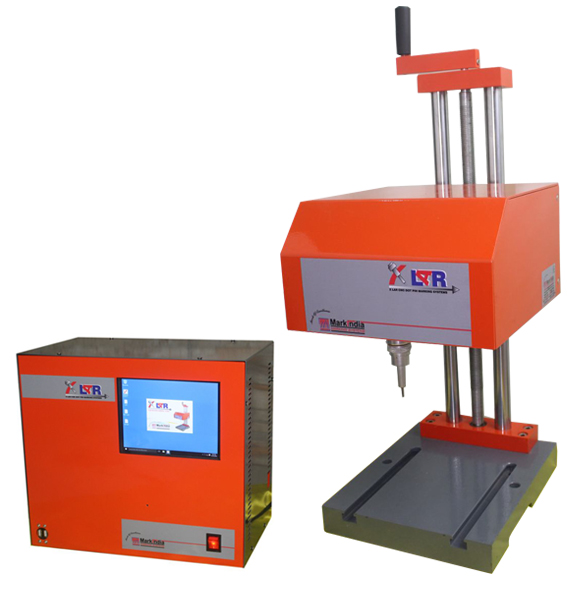 Specifications
Standard Marking window : Std. 100mm X 100mm, or any custom built size is available.
Column Height adjustment : 300mm Imprinting
Power : 100 N
Standard Stylus : 3 mm / 4 mm For Any Metal Marking
Imprinting surface variance : 3mm to 5 mm. ( Long stylus also available)
Marking Speed : Std. 2 charís per sec. (* Depends on Application, 3 mm char ) 7 Inch Display with XLAR CNC Dot Pin Software (No External PC Required)
Machine Constuction
Machine Body : Aluminium with LM Guide ways.
Machine Cover : Carbon Steel with powder coating.
Colour of machine : Orange with Gray Column & Base. ( Custom Color Also Available)
CNC Controller : 2 Axis X-LAR CNC Controller from MarkIndia Marking Systems.
Drive : High Quality Stepper Motors.
Packing : Air worthy packing.
Optional Accessories
I/O Port : 10 Inputs & 10 Outputs for automatic Text Selection. End of marking O/P ( Marking Done Pulse), Marking Start Pulse, Rotary Device for Cirmcumferance Marking, Part Holding Fixtures, Auto Z Axis Control.
Customization : Lot of Customize Accessories available for Dot Pin Marking Machines.
Software Features
Operates with proprietary software XLAR CNC Marker available free along with the machine. Can drive Unlimited machines from a single computer.
Storage Capacity : Unlimited storage and Designs possible.
Features : Normal, Inverted, Mirror, Circular, Inside Circle, More than one Serial Numbers, Date & Time, Encoded Date, 2D Barcode, Barcode Scanner Output can be mark, Variable Data, Serial Data Linking, Excel File linking, Return to Approch Path and many more...
Fonts : 8 Std. Fonts.
Logos : Inbuilt 50 Logos and Logoís Files Can be import.
Designed by : MID Hosted by : GID Promoted by : PBD